Swatching!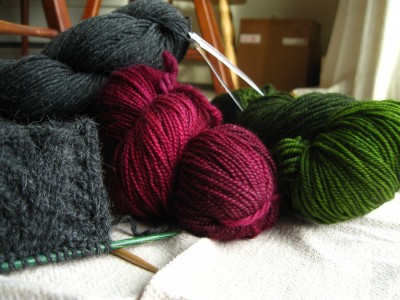 Starting back at work, and the new office space that I will be in is simultaneously cold and warm. Wearing my new sweater is just too much, but not wearing a sweater and I get cold. It's mostly my arms and hands that get cold! For the first time ever I've felt the need for fingerless mitts.
This is my first experience with trying to set a deadline for myself. I want this one to be done at least a few weeks before Christmas. Just in time for a few last minute gifts! Gonna kill 2 birds with one stone: Knit 3 samples and give at least one away as a Christmas gift. This one is going to be lots of fun, and these yarns are pretty darn cool. Valley Yarns Northampton Sport (grey), Dream in Color Smooshy Sock (green), and Valley Yarns BFL Hand Dyed (purple).  They are all so squooshy soft!
As usual, very excited about this one. Gotta get knitting!